NACA Board of Director Elections
Meet Your 2023 NACA Board Candidates:
Inga Fricke – Executive Director, McKamey Animal Center
Audra Michael – Director, Pinal County Animal Care and Control
Kathy Duncan – Director, Humane Canada
Ryan Johnson – Chief of Animal Services, Kansas City Pet Project
Michelle Dosson -= Executive Director, Best Friends Animal Society Utah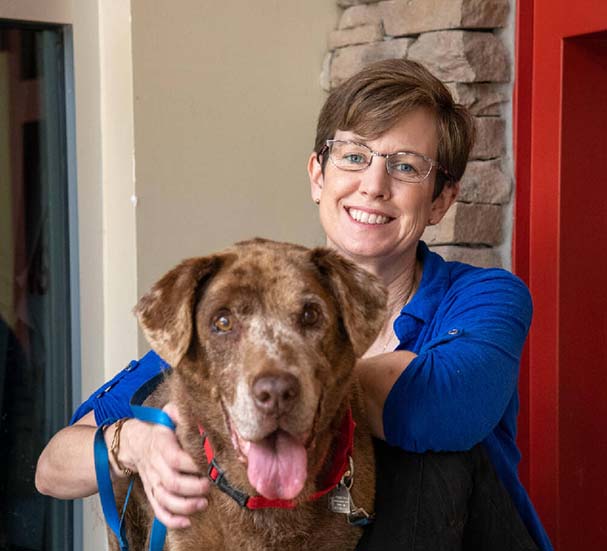 Inga Fricke
Executive Director, McKamey Animal Center
View Bio
After spending several years as an environmental attorney volunteering with local shelters and wildlife rehabilitation facilities, in 2001 Inga decided to pursue her passion for animal welfare, first with Wyandot County Humane Society and later with Loudoun County Animal Care and Control. In 2010 she joined the Humane Society of the United States, working in various roles to support animal welfare professionals, helping to launch Spayathon™ for Puerto Rico, authoring and contributing to numerous nationally-utilized best practices publications including HSUS' Euthanasia Reference Manual, Rescue Group Best Practices Guide and Adopters Welcome, and leading national trainings for the animal protection community. After leaving HSUS she joined Humane Pennsylvania as Director of Community Initiatives, then became Executive Director of McKamey Animal Center in Chattanooga, Tennessee, providing animal protection services for the cities of Chattanooga, Red Bank and Lakesite. In addition to her work at MAC, Inga is an adjunct professor for Canisius College's Anthrozoology Department and has served on various boards including Shelter Animals Count. Inga hopes to serve NACA's membership by continuing to recognize and elevate the professionalism of those who have committed themselves to providing the highest standards of service to their community.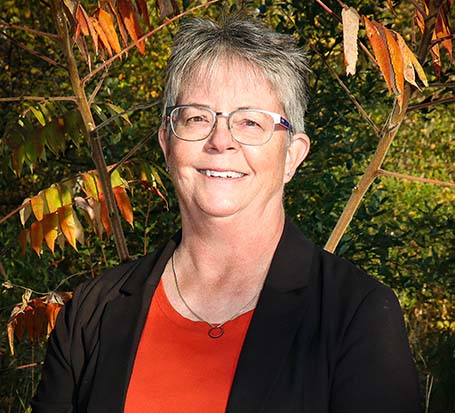 Kathy Duncan
Director, National Progams, Humane Canada
View Bio
Kathy Duncan has worked in the Animal Care, Control and Welfare field for over 30 years in Ontario. She started as an Animal Control Officer and has held various roles in both non-profit Humane Societies/SPCAs as well as open admission municipal animal shelters. Kathy is currently the Director, National Programs with Humane Canada, Canada's national voice for animal welfare.
She was a member of the Municipal Law Enforcement Officer's Association of Ontario for almost 20 years and a member of the Association of Animal Shelter Administrators of Ontario (AASAO) for almost 30 years. She served as a member of the board of directors with the AASAO for over 17 years, 12 of those she served as President/Chair of the Board.
Kathy has been actively involved in various provincial working groups including the Animal Welfare Task Force over the course of her career and is passionate about bringing improvements to animal sheltering and animal welfare. She is excited about the chance to bring that passion to the National Animal Care and Control Association, particularly it's Canadian members.
Kathy, along with her husband Paul, is the proud parent to two young adult children, and two Bouvier des Flandres dogs.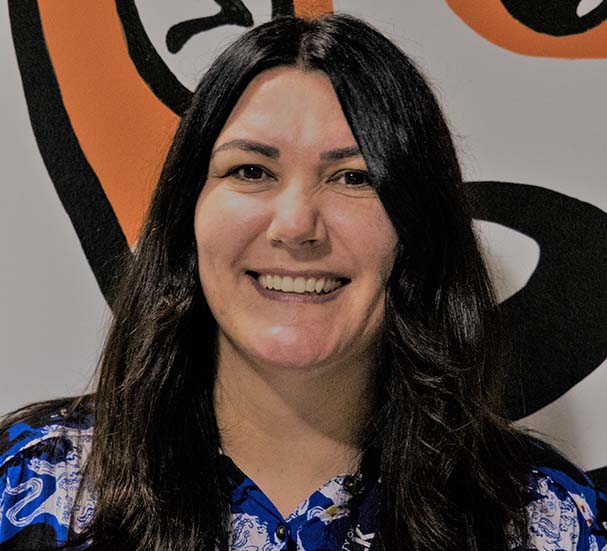 Michelle Dosson
Executive Director of Best Friends in Salt Lake City and the Mountain West Region
View Bio
Michelle Dosson is the executive director of Best Friends in Salt Lake City and the Mountain West region, having joined the team in early 2022 and previously holding the role of Bureau Manager for the Norfolk Animal Care and Adoption Center (NACC) in Norfolk, Virginia. Michelle leads efforts to engage community members and stakeholders in the implementation of proactive, lifesaving programs that promote kindness, increase pet-retention, and help keep people and their pets together. Michelle also currently serves on Board of Directors for the National Animal Care & Control Association, a non-profit organization that is committed to setting the standard of professionalism in animal welfare and public safety through training, networking, and advocacy.
Prior to NACC, Michelle was the national shelter outreach manager for Best Friends Animal Society, providing leadership and training for strategic shelter partners and animal services agencies across the country. Before that, Michelle spent a decade implementing progressive community outreach programs and developing expertise in local and state legislation through Austin Animal Services in Texas. While working as a public health educator through the field services department, she created and led programs for the Austin community that included spay neuter services for companion animals and trap-neuter-return for community cats. Michelle has worked in public service for more than 15 years.
Born and raised in Cape Town, South Africa, she nurtured a deep passion for helping animals both human and nonhuman at a very early age through volunteer work with the Cape Town SPCA and local wildlife services. After moving to the U.S. in 1997 for an athletic scholarship, Michelle found her way to the City of Richmond Animal Care and Control in Virginia, where she worked as an animal caregiver, veterinary services technician, and adoptions counselor. In 2008, she began a field services career as an animal protection officer for the city of Austin, just two years prior to the city passing its no-kill implementation plan. Michelle's experience as a field officer before, during and after Austin's journey to no-kill gives her unique insight into the process behind creating compassionate communities focused on lifesaving.
Michelle shares her home with her canine companions, Drexil and Honeybear, supervising cats Swiss Marcel, and Bernie Barack Ocasio Cortez, and has a habit of finding a local community cat colony to care for wherever she lives. When not out championing lifesaving work for our four-legged friends, Michelle can usually be found lifting at the gym or rolling with the Wasatch Roller Derby league.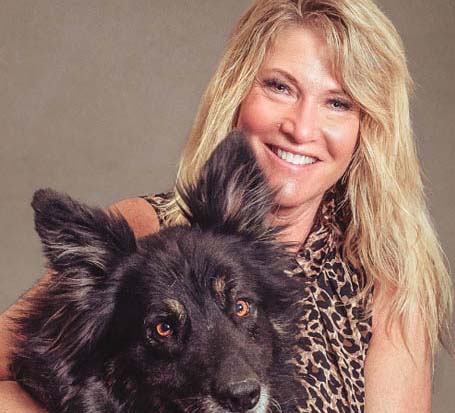 Audra Michael
Director, Pinal County Animal Care & Control
View Bio
Secretary Audra Michael. Audra is the Director of Pinal County Animal Control in Arizona. She has been in animal welfare since 2007 and has worn many hats including many years as a field training officer and field supervisor. Audra earned her CAWA in 2022, is certified in executive leadership through Southern Utah University Program and is a Certified Public Manager through Arizona State University. Audra currently serves on the Arizona Companion Animal Committee and then Arizona Animal Cruelty Taskforce. In addition, she is an expert in Field Service-related state laws and ordinances. Audra works hard to support the animals and people of not only Pinal Country but of our country.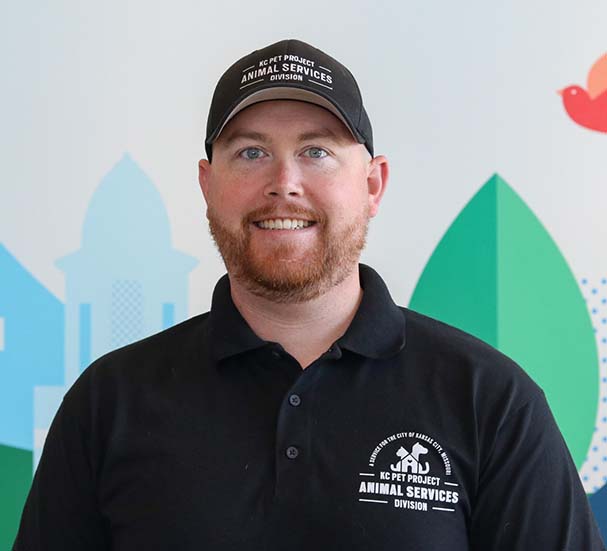 Ryan Johnson
Chief of Animal Services, Kansas City Pet Project
View Bio
Ryan found his way into the field of Animal Services after serving in the Marines. He began as an Animal Control Officer and later was promoted to be the program director for Animal Control in Cheyenne, WY, where he quickly began implementing progressive changes to the organization. Ryan was instrumental in updating local and state ordinances changes and helped introduce pre-conviction forfeiture laws to the state of Wyoming. In 2021, Ryan relocated to Kansas City where he took on the newly created role of Cruelty Investigations Manger at KC Pet Project, where he was instrumental in enacting policies, training, and programing to interrupt the cycle of animal cruelty in Kansas City.
In 2022, he was named Chief of Animal Services, where he continues to enact progressive change, community-oriented policies, and serves the individualized needs of Kansas City Missouri. He facilitated a re-launch of KC Pet Project's Identify Connect Unite (I.C.U) program which gives officers the ability to make life-saving referrals into services when domestic violence is suspected.
Ryan is committed to furthering this profession by bringing the reputation to an unprecedented standard, and he hopes to promote to NACA members a community-facing approach to serving the public through animal services.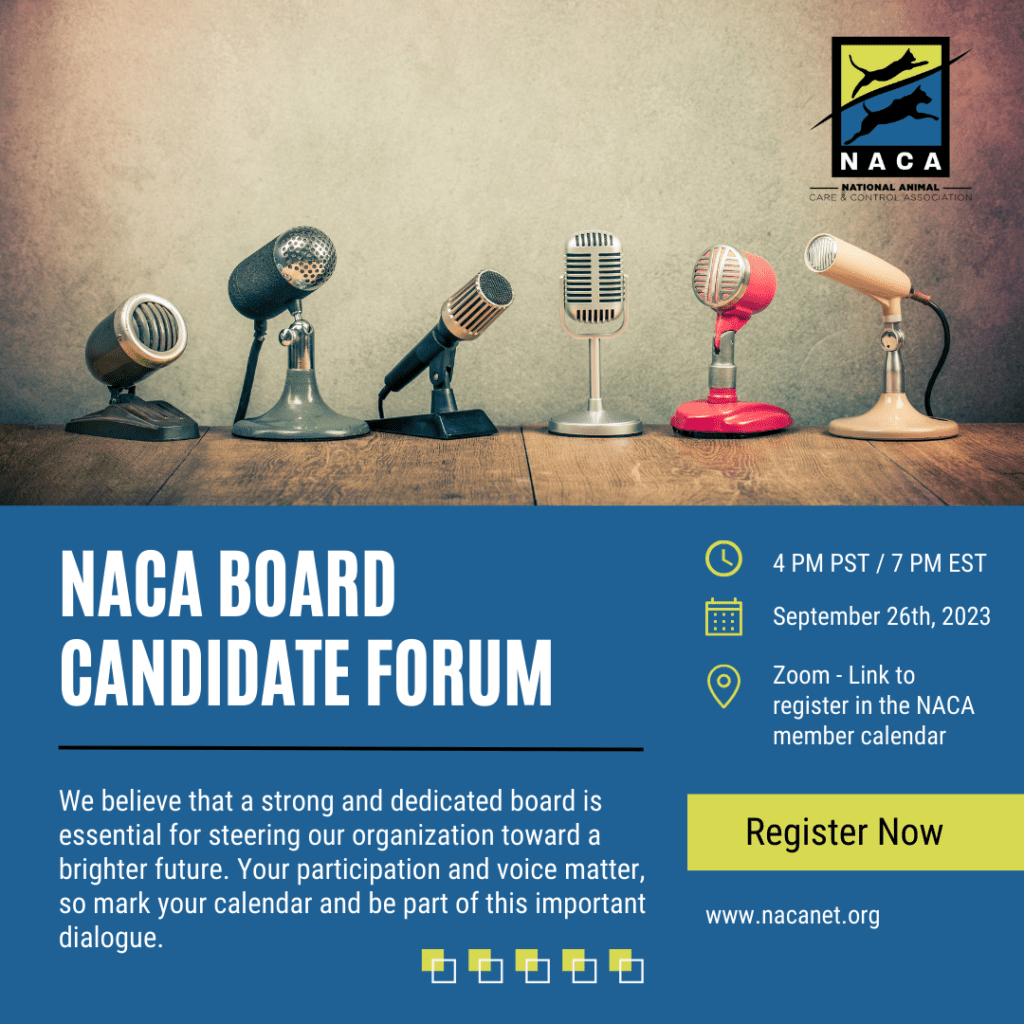 2023 Board Election Timeline
July 1st – 31st – Nominations accepted for potential board members
August 13th – Oct 6th – Accepted nominee bios available on the website
September 26th – Candidate Forum
Oct 9th – 13th – VOTING
Oct 28th – Annual Membership Meeting with new board members announced.