"ANIMAL CARE AND CONTROL TODAY" MAGAZINE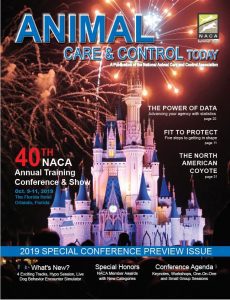 "ANIMAL CARE AND CONTROL TODAY" is a quarterly magazine published by the National Animal Care & Control Association. It contains articles addressing issues of interest to its members and others concerned with the ongoing Animal/Human relationship and associated problems.
Since product advertising is encouraged, the "ANIMAL CARE AND CONTROL TODAY" has become a resource of information for service and product reviews. The "ANIMAL CARE AND CONTROL TODAY" has a circulation of over 4,500 per issue, and is distributed in several other countries. As a member, you receive the greatest resource within our field!
To Submit an Article
We are looking for interesting and informative articles for our "ANIMAL CARE AND CONTROL TODAY" readers to enjoy and learn from covering topics related to the Animal Control/Care field, to include product reviews, NACA member profiles, the technical aspects of Animal Control/Care work, or even something humorous pertaining to your experiences in the field or shelter. Articles from NACA Members, as well as articles pertaining to the theme, receive primary consideration.
NACA encourages you to get that pencil and paper ready! Below are the basic guidelines to follow when submitting articles and images for review and possible publication:
Articles should ONLY be in either Microsoft Word, WordPerfect, Rich Text Format or Plain Text. (Please do not submit articles in HTML format as we have standard templates we use for article insertion). Times New Roman, 10 point, left justified, single-spaced.
Articles should be submitted prior to the copy deadline.
Length should not exceed 1500 words (give or take a few – some exceptions can be made depending on the article content) and should be no less than 500 words. If your submission is over 1500 words, you may want to consider dividing it into parts – e.g., Part One, Part Two, etc. (keeping in mind that the follow up articles need to be completed for the next issue deadlines).
Accompanying images should be at least 300 DPI and no larger than 500 pixels on the longest side (this allows us room to re-size and add Drop Shadow, etc.). Should we need additional images we will request them from you. Please DO NOT embed photos within your e-mail message or within your document. Photos should be sent as a separate file attachment.
The number of images should be limited to 4-5 to allow us a few choices for placement in the article.
Articles must pertain to some aspect of Animal Control/Care, particularly field services and/or shelter operations.
Include a short, 2-3 sentence, "bio" about yourself and your position, along with your contact information.
Once you have the article completed, along with the images that you wish to be included, please send them as e-mail attachments to naca@nacanet.org for review.

By submitting an article for the NACA Magazine, I acknowledge that I have author's/owner's written permission to do so, or I am the original author.
As with any publication and space restrictions, be mindful that not all submissions will get published. Copyrights of articles published are shared with NACA.. Authors retain copyright while NACA has the right to publish articles from the magazine into future issues, online on the NACA website and other media published under the NACA Trademark. (We do require that authors not submit articles published in NACA for publication elsewhere for at least one year after the first publication by NACA.)
Join NACA Today!
Become a part of the largest community of animal care and control professionals in the country.