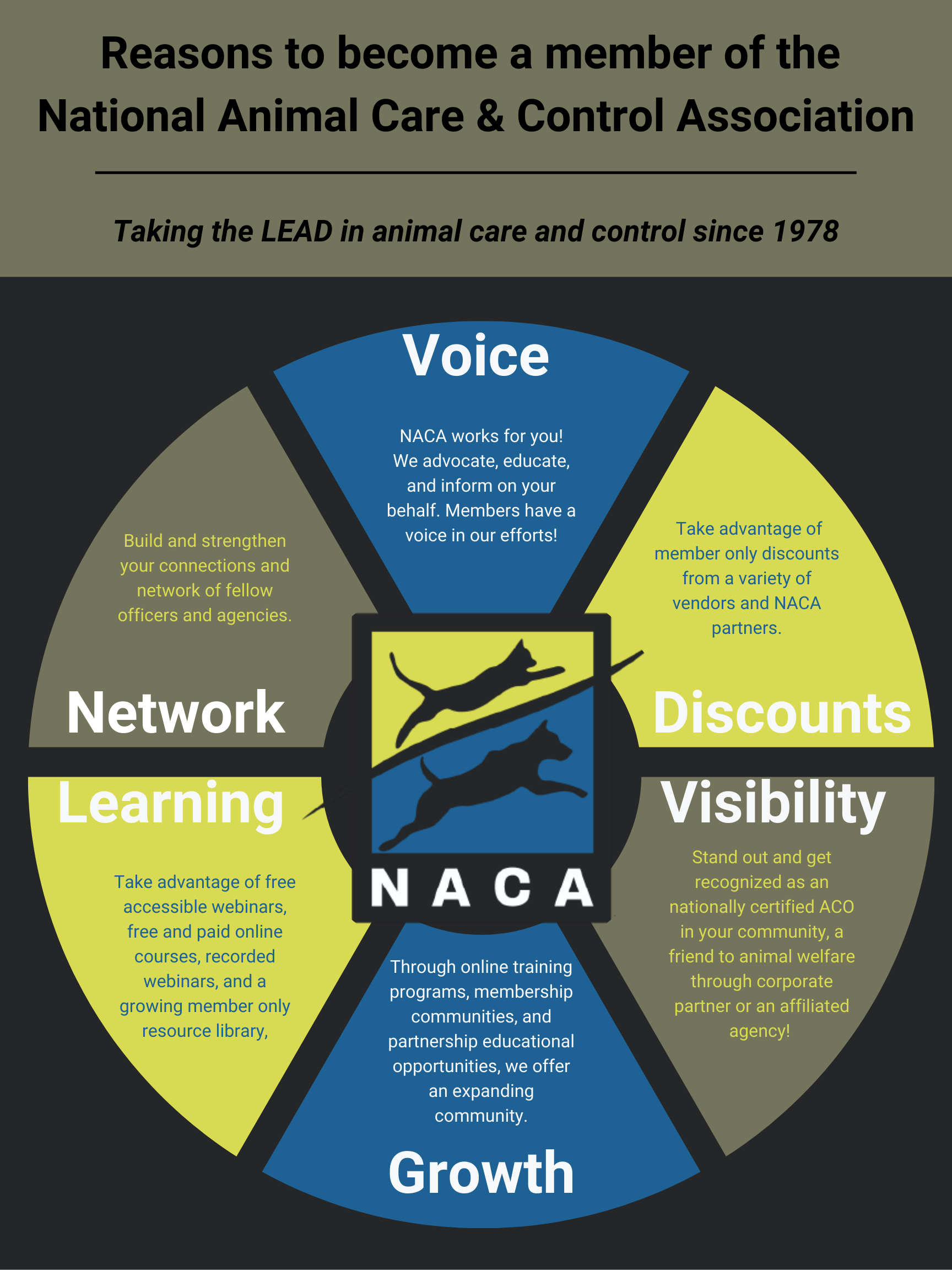 NACA MEMBER BENEFIT CHART
(Effective March 1, 2021)
To enjoy all of the benefits below,
your membership must be up-to-date.
Individual Member
State
Association Partner
Agency Partner
Corporate Partner 
Eligible to serve on the NACA Board of Directors
 X
Voting Privileges
 X
Access to the 'Members Only' areas of the NACA Network Website with the Membership Forums, Animal CareNews Archives, member blogs, member messaging, and much more!
 X
X
X
 X
Discounts on certain NACA merchandise
X
X
X
 X
Discounts on NACA Training Academy and Annual Training Conference registration fees
X
X
X
 X
Discounts on NACA ACO Online Training*
X
Free live webinars & 24×7 access to extensive library of recorded webinars.
X
Eligible for NACA Training Academy scholarships
(restrictions may apply)
X
X
X
X
Ability to post job openings for the member only rate of $20.00
X
X
Ability to post job openings for FREE!
X
 X
Qualify for NACA Awards

Animal Control Employee of the Year, Bill Lehman Memorial Award, Outstanding Agency Award, Diane Lane Award, and Outstanding State Association.

(In most cases awardees must be a current member or partner. Employee of the Year must be an Individual Member. Corporate Partners may qualify for Bill Lehman and Diane Lane Awards.)

X
X
X
 X
Discounts through Vendor Partners**
X
X
X
X
Eligible for NACA Sponsorship of State Association conference, listing of affiliation on the NACA website, and FREE registration for President at the annual NACA Training Conference
X
Eligible for NACA national promotion for state association-related training, conferences, etc.
X
X
X
Visibility opportunities such as sharing social media posts, cross-sharing training opportunities, and photo sharing.
X
X
X
X
Enjoy a monthly newsletter from NACA that contains industry-leading information, timely training opportunities, a featured Humane Highlight, and much more!
Active members of NACA get access to a portal that contains information such as Membership community forums, member reports, Animal Care & Control Today Magazine Archives, *NEW* resource library, member blogs, member messaging, member directory, and much more
Join NACA Today!
Become a part of the largest community of animal care and control professionals in the country.