Deputy Angela Walters
Cheboygan County Michigan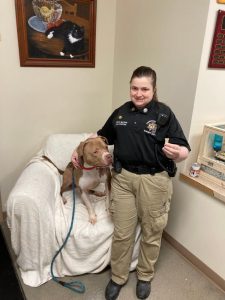 Deputy Angela Walters is currently one of two deputy Animal Control Officers for Cheboygan County Michigan. Deputy Walters has a bachelor's degree in Criminal Justice from Lake Superior State University and has been proudly serving her community for the past 15 years.  
In her role she has worked with all kinds of animals including cats, dogs, cows, horses, snakes, pigs, and even a bull. Her office is based out of the Cheboygan County Humane Society where she also helps with filing, data entry, statistics, and whatever else is needed. Deputy Walters is thankful and understand that without the help that the Cheboygan County Humane Society staff she could not do her job to its fullest. When asked about her experience as a NACA members, she had this to say "Being a NACA member has been a rewarding experience for me as I love to learn new things and I have enjoyed many of the training programs that are available through NACA. NACA along with the Justice Clearinghouse have made great strides in helping us ACO's to improve our game by make training more available for small and/or busy departments to get great education. NACA has helped to ease my mind whenever I start to feel unsure of my knowledge in my field as there is always training available. Thank you so much NACA for all that you do for us ACO's." 
When Deputy Walters is not at work, she enjoys spending time with her husband and daughter and help with her high school class board, and really likes to dance, paint and read. Thank you to deputy Walters for all you do for the animals, co-workers, and your community!! We are thankful for your dedication and hard work!