Justin Hatch – Candidate Profile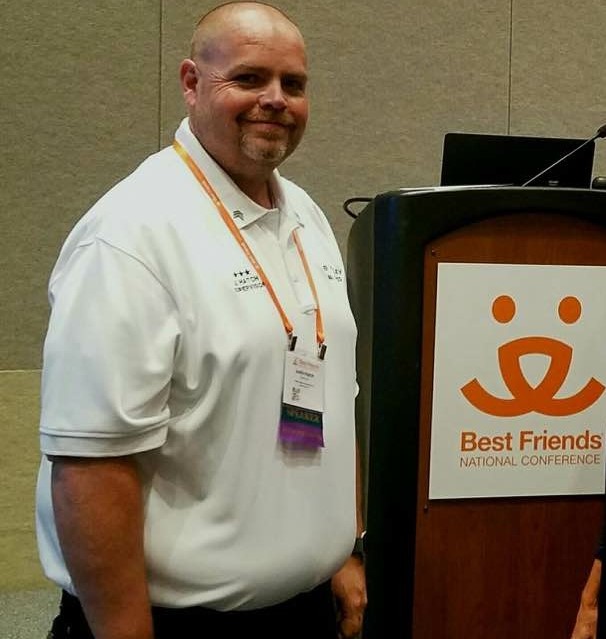 Hello, my name is Justin Hatch and I have been in the Animal Services industry for 19 years. I am the Supervisor for Heber Valley Animal Services and I love it, which is why I've been loyal to the same department for all 19 years. I have been married to my best friend, Natalie, for 28 years and we have three children. I love to mentor the young kids in the community about animals and animal welfare and educate them about the role Animal Services officers play in making a difference.
I have been recognized by the Police Department as the Officer of the Year, and also received the Officer of the Year award from the Utah Animal Control Officers Association in 2006. I have been awarded by No More Homeless Pets in Utah for Excellence in 2003. The Heber Valley Animal Shelter has additionally been recognized by Best Friends since 2012 as finding homes for 90% or higher for the animals that come in to our facility.
Working with animals was a childhood dream of mine that has come true. I remember a time as a child that the dog catcher took my black lab and euthanized her that same day. My mother told me when that happened I said to her, "When I grow up, I am going to do that job and make sure that all kids get their dogs back and not take them out and kill them." I am honored to say that I am doing my dream job.
I am currently the President of the Utah Animal Control Officers Association. I have served in the Utah Animal Control Officers Association since 2006; I served as Treasurer/Secretary for six years and have been serving as President for the past seven years.
I believe in getting as much training as possible. In this day and age, we need to raise the bar on our ethics and morals in our profession in the animal welfare industry.
If I am elected to serve on the National Animal Control Board, I will do everything in my power to keep up-to-date training available and affordable so that we all can stay educated and aware. One of my duties as serving on the Animal Control Officers Association is teaching a chemical capture class and, with my board's help, finding knowledgeable speakers for trainings and our annual conference.
I have spoken at the Best Friends National Conference when it was held in Salt Lake City, Utah. The topic was on how shelters and rescues can work together. Heber Valley Animal Services is a leading shelter in the state of Utah on how the two groups can accomplish this goal. I have spoken at local schools and youth programs. I sit on the command staff at the Heber City Police Department, and I sit on our local town committee for our summer farmers market. I helped design Heber's new animal dog park.
I would really consider it an honor to represent all of you if I am elected to the National Animal Control Officers Association Board. I promise that I will do what is in the best interest of you as members and also the National Animal Control Association.
I love the direction that NACA is heading and would like to be a part of your organization.
I would really appreciate your vote and your support.
Thank you for your consideration,
Justin Hatch
Board Candidates
Kristen Hassen-Auerbach, Director of Animal Services, Pima, AZ, Animal Care Center
Dr. Josh Fisher, Director of the Charlotte-Mecklenburg, NC, Animal Care & Control
Scott Giacoppo, Best Friends Animal Society
Justin Hatch, Supervisor, Heber Valley, UT, Animal Services
Jace Huggins, Chief Animal Control Officer, City of Sacramento, CA
Ed Jamison, Director, Dallas, TX, Animal Services
Aaron Johnson, Director of the Montgomery County, TX, Animal Services
Adam Leath, Director of the Volusia County, FL, Animal Services
Adam J Ricci, Chief of Field Operations, City of Albuquerque, NM
Linda Shea, Director, Frederick County, MD Animal Control
Cynthia (Cindy) Walden, Retired Animal Services Officer, City of Folsom, CA